Topic: I need help understanding DR-660 MIDI Bulk Dump and Sysex
Okay so my I filled up my 660 with patterns like I always do eventually but I'm at a point where I want to start saving all past endeavors rather than just sucking it up and deleting everything for myself to finally move forward. So I'm trying to understand doing the Bulk Dump/Transmit from my DR-660 to my computer into my DAW Reaper.
I've gotten to the point where I'm pretty sure I've successfully bulk dumped because I'm now reading back patterns of Sysex code/messages. Here's a screen shot :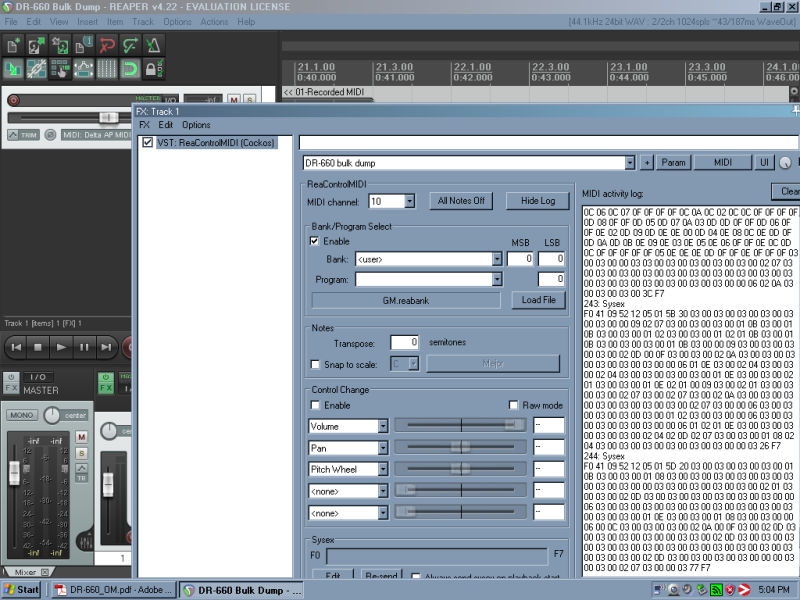 Anyways as you can see it reads out a total of 244 Sysex messages but this is where I'm in the dark pretty much. How do I go about confirming what the messages are exactly? Like how can I actually tell what and where my presumed saved drum kits and patterns are from this coded information I now have? Do I need to have a separate VST for processing these codes?
And my true question is how can I go about putting this Sysex/Transmitted information back onto my DR-660 in the future and how does that even work? Does it just overwrite on the 660 or do you have to manually go through and clear things out before attempting to reload Bulk Dumped data back onto the 660?
I'm horribly noob about getting my hardware to interface with MIDI into my computer and DAW, I crashed my DAW several times trying to get as far as I've gotten. Anyways I transmitted from my 660 MIDI Out to my M-Audio Delta 192 PCI sound card MIDI In. I figured I'd ask here since there seems to be some users here with experience with Boss DR drum machines before I go try the Reaper forums, which I will if this becomes like DAW specific problematic.
THANK YOU DEEPLY TO ANYONE WHO CAN SHED SOME LIGHT OR DIRECT ME TOWARDS INFORMATIONS!