Topic: numark dm 1050 dj mixer FS 50 euro
i'm going to throw this thing on ebay tonight, so if you want it, be fast.
numark dm 1050 2 channel dj mixer.
The Numark DM 1050 delivers a quality 10 inch mixer at a price you can afford! This 2-channel mixer features 2 phono inputs, 1 mic input and accepts signals from line sources as well. Take complete control of each channel with the integrated 3-band EQ, then mix your masterpiece using the adjustable crossfader.
Features
Product Feature Inputs: 2-4 line switchable, 2 phono, 1 mic
Product Feature Outputs: master, recor
Product Feature Channels contain: 3-band rotary EQ, gain
Product Feature EQ on mic channel
Product Feature Master and PFL metering
Product Feature Replaceable crossfader with reverse and slope control
Product Feature Slider style cuing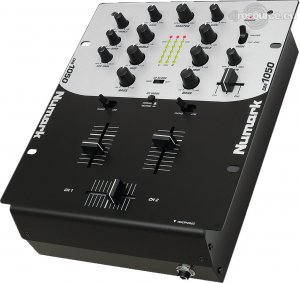 50 euro or trade for an EH smallstone phaser..